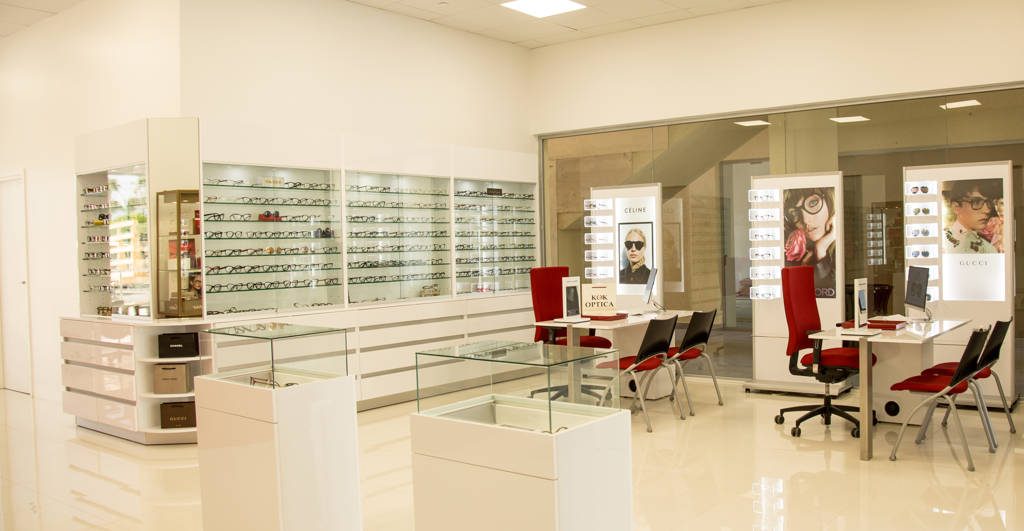 Oranjestad – Aruba, 24 April 2017: Diabierna ultimo na The Cove Mall, Sr. Marcel y Yolanda Kok hunto cu nan yiunan Frans, Alexandra y Rudolf Kok, acompaña pa amigonan, socionan internacional y henter comunidad di Aruba a celebra den gran forma, e apertura di e di 6 localidad di Kok Optica situa na The Cove Mall den Palm Beach.
Despues di 20 aña cu a inaugura e prome optica situa na Wilhelminastraat, famia Kok a dicidi recrea e celebracion aki un biaha mas cu un caravana di Harley Davidson y  bailarinnan di Popcorn Dancers guia pa cuerpo policial cu a acompaña e mayornan di famia Kok, esta Sr. Marcel y Sra. Yolanda Kok na e localidad nobo pa inicia e celebracion mescos cu 20 aña pasa.
Despues di un tremendo show di apertura, palabranan di bonbini y gradicimento di parti di Frans Kok, e mayornan hunto cu nan nieta Kyriana-Mari a desvela e tienda nobo pa asina un y tur por drenta pa cera a conoci cu e di dos optica di Kok Optica.
Tur e socionan internacional di Kok Optica y representantenan oficial di marcanan manera Gucci, Tom Ford, Dita Eyewear, Oliver Peoples, Chanel y Rayban tambe tabata presente na e gran apertura, pues esaki tambe ta demostra e relacion estrecho cu Kok Optica ta mantene pa mas cu 20 aña cu partnernan clave den e mundo di optica y casnan di moda.
E di 6 localidad nobo aki cu na mes momento ta e di 2 optica di e compania ta un concepto innovativo y moderno den e mundo di optica. Sin embargo tur cliente of persona cu bishita e localidad nobo aki por ta sigur cu nan lo sigui haya e mesun servicio personalisa di profesionalnan capacita manera custumber na Kok Optica.
Pa e famia di Kok Optica e expansion aki ta un otro forma pa nan por ta mas cerca di nos comunidad pa sigui brinda e servicio cu nan ta merece. "Nos sa cu e ta un area hopi turistico y bon bishita, pero tambe hopi di nos hendenan ta biba y labora den e sector aki y p'esey nos a pensa cu tabata un luga y oportunidad perfecto pa duna bek y expande nos negoshi cu un localidad mas", asina Frans Kok a expresa na e apertura di Kok Optica na The Cove Mall.
Henter comunidad di Aruba y bisiña nan di Noord ta keda cordialmente invita pa pasa bishita e optica nobo na The Cove Mall y experencia un servicio unico den mundo di optica pero tambe pa cada cliente sinti un diferencia riba nan cara y un placer pa nan bista.
Famia Kok ta sumamente agradecido cu pa mas di 20 aña caba henter e comunidad di Aruba a sa di apoya y duna sosten na nan como empresarionan local, pero tambe a duna e confianza den nan experticio pa cuido di wowo, bista y uzo di bril y contactlens.
Kok Optica a habri su portanan na aña 1996 y awe ta conta cu un total di 6 establecimento rond di nos Isla: Kok Optica na Wilhelminastraat y The Cove Mall na Palm Beach , Kok Optica Sunglasses den Caya Grandi, Havenstraat,
Aeropuerto Reina Beatrix  y Paseo Herencia Mall.
Kok Optica ta acepta tur aseguro cu tin 'vision plan', ta ofrece diferente diseñonan di bril di bista of solo entre otro for di Italia, Francia, Japon como tambe tur tipo di contactlens. Kok optica pa varios aña ta e unico 'Authorized Dealer' di marcanan exclusivo manera Tom Ford, Roberto Cavalli, Dita, Shamballa, Iyoko Iyake, Cartier y mas ademas tambe ta ofrece diferente marca di bril di bon calidad y na presupuesto  di un y tur.